Velebita - world deepest underground pit
Rozanski kukovi, National park North Velebit, Croatia
Speleological expediton Velebita 2004.
Cave explorers from Velebit Speleological Society and other clubs from Croatia discovered a pit inside a mountain range in central Croatia believed to have the world's deepest subterranean vertical drop, at nearly 513 m. The cave named Velebita, in Croatia's mountainous Velebit region, has a steady, weaving descent of 67 m before it takes a direct vertical plunge of 513 m through the ground. The cave's widest stretch is about 30 m. There are deeper caves in Croatia (Lukina jama -1392 m, Slovacka jama -1320 m), but according to available data, this cave has the world's deepest vertical drop. At the foot of the Velebita cave are small ponds and streams, including one of the largest known colonies of subterranean leeches. It is located in the Rozanski kukovi area of the National park North Velebit in the rocky Velebit mountain range in central Croatia.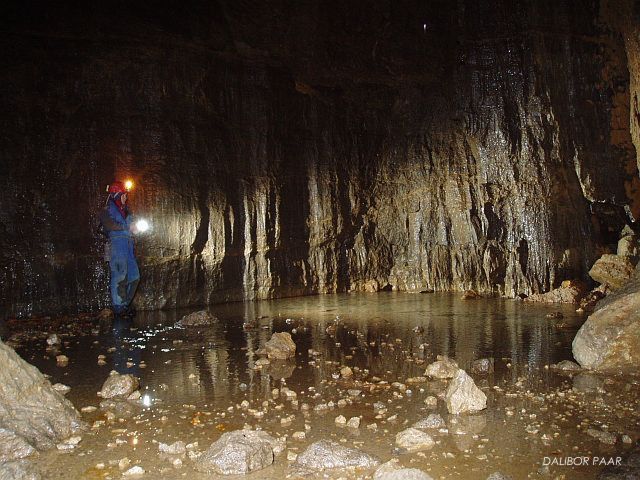 At the foot of the Velebita cave. Photo: D. Paar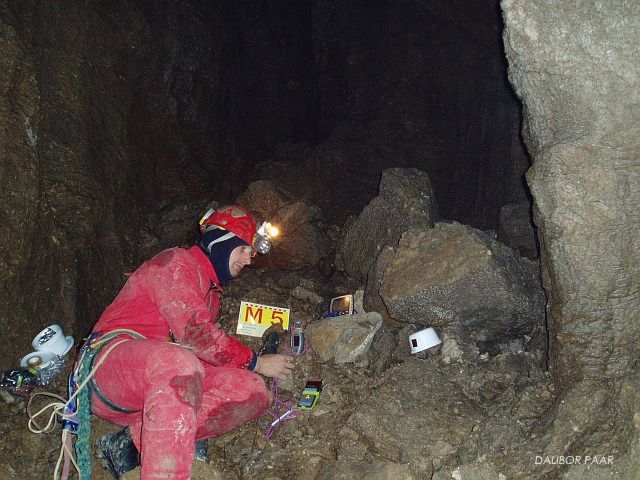 Scientific measurements in the cave. Photo: D. Paar
The Velebit region is Croatia's largest mountain range, attracting speleologists, botanists and hikers from around the world. Much of the rugged area remains untouched, and scientific expeditions over its vast expanse covered by rare flora and fauna have been ongoing for years. Velebit is very rich with speleologic objects - pits, caves, abysses and oforms. The most significant faunistic discovery in caves represents the endemic stygobiontic leach - Croathobranchus mestrovi.
This expedition is supported by National park North Velebit - project of speleological and biospeleological explorations of the park, The Speleological Committee of the Croatian Mountaineering Association, and private donators.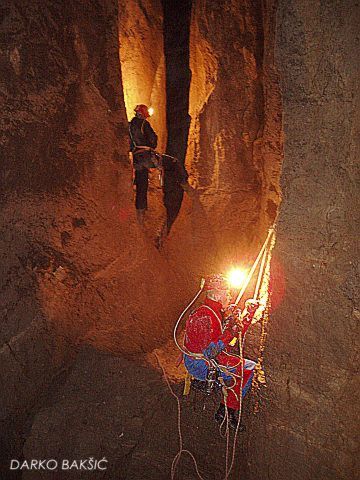 In Perunov passage. Photo: D. Bakšić
Members of the Expedition Velebita 2004

1. Darko Bakšić
2. Matija Čepelak
3. Lovro Čepelak
4. Ronald Željeznjak
5. Marinko Malenica
6. Dalibor Paar
7. Igor Jelinić
8. Slaven Boban
9. Tihana Dasović
10. Vesna Hrdlička
11. Marin Glušević
12. Jana Bedek
13. Marko Lukić
14. Darko Troha
15. Ivica Ćukušić
16. Andrej Stroj
17. Tomislav Bajo
18. Tihana Krmpotić
19. Rok Stopar
20. Branko Jalžić
21. Predrag Rade
22. Ena Vrbek
23. Miljenko Gerić
24. Zoran Ivanušić


Members by clubs: 16 from SO PDS Velebit - Zagreb, 2 from SO HPD Mosor - Split, 1 from SO PD Dubovac – Karlovac, 1 from SO PD Željezničar – Zagreb, 1 from SD Karlovac – Karlovac, 2 from GSS Varaždin and 1 from Slovenia

Logistic support:
25. Ana Bakšić
26. Mladen Šaban
27. Goran Jurković
28. Vesna Troha
29. Sven Troha
30. Davor Perić
31. Željko Hrastinski
32. Darko Vukov Colić
---
Text by Darko Bakšić, Ana Bakšić and Dalibor Paar
Last update: September 8th, 2004.